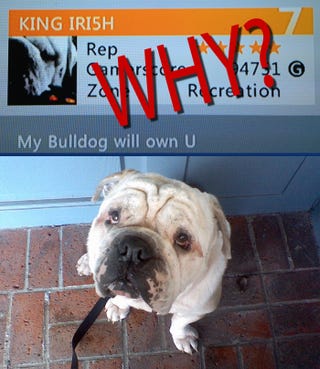 With this new console generation comes a host of new things to learn and get used to; voice commands, hand gestures, recording, Smartglass, snapping, scanning, adding new profiles, there is just a lot to adjust to from the Xbox 360. There was however one small thing that made me feel a little sad, like I was leaving something behind; my old gamer pic.

I know for some, you change gamer pics and gamertags just as easily as you change your clothes each morning (well, I hope you're putting on new clothes in the morning). For me however, my gamertag and gamer pic is a part of my gaming identity. My gamer pic on my Xbox 360 was something extra special too. At a time, you could take a picture using the Xbox camera and use that as your gamer pic. I grabbed my best buddy in the whole world, "Tank," an English Bulldog, and put my Xbox controller next to him. Once I got him to sit still, I took a picture I have used for almost 5 years.

After 9 years, Tank sadly passed away. As anyone who has had to go through that knows, it isn't an easy thing to do, to put down your best friend. I did however take solace that I had a gamer pic that I would use from now on. In my own silly way, my pup was gaming with me.

When I powered up my Xbox One and took to getting to know the system, I looked at my profile with a question mark hanging over my head. Not only had they shrunk the old gamer pics down, but my default was a Tycho gamer pic that I had set for people who weren't on my friends list to see. Seems like a weird oversight to make that the default. In the end who's a better friend to me, than, well, me! I looked everywhere to see if I could change this somehow. I went back to my Xbox 360, seeing if I could make my Tank gamer pic my default for both friends AND strangers. Couldn't change anything there. Went to my profile on Xbox live, couldn't change anything there either. Searched on Xbox One, and all you can do is choose from a set of "new/default" gamer pics (on a side note, that also throws out any money spent on gamer pics which doesn't seem fair).

I understand they wanted to increase the pixel size of the gamer pics. But shouldn't something that could be connected to our gaming identity remain the way it was? Or at the very least, give us the choice what we want to do? Throwing out the old gamer pics and themes, when so much time and/or money was spent on using them seems like Microsoft didn't care. Or, in another way, forcing you to change a persona that you built up over the years. How would you feel if you bought a new cell phone and there was no way to port over pictures from your old cell phone?

Anyone else notice these changes? Anyone else feel like Microsoft left something behind when following up with the Xbox One?